Gray Fullbuster (グレイ・フルバスター Gurei Furubasutā) is an Ice-Make Mage, a member of the Fairy Tail Guild and a member of Team Natsu, and one of the main male protagonists.
Appearance
Edit
Gray's most prominent feature is his spiky black-colored hair. He has dark blue eyes, and his body is toned and muscular.
After the mission on Galuna Island, he gets a scar on his forehead above his left eye that is partially covered by his hair. He also has a cross-shaped scar on his lower abdomen received from using Seven Slice Dance: Blood Version on Tenrou Island. His member stamp is below his collarbone on his right pectoral muscle and is dark blue in color.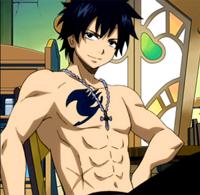 Unlike almost all other characters, Gray does not consistently wear the same type of clothes (that is, when he is wearing some), though he is often shown wearing some kind of white coat.
Still, his most consistent piece of clothing is his necklace, which resembles a sword with a stone in it (this is similar to the Rave Stone in Rave Master), and a metal bracelet and similar chain attached to his pants.
Ad blocker interference detected!
Wikia is a free-to-use site that makes money from advertising. We have a modified experience for viewers using ad blockers

Wikia is not accessible if you've made further modifications. Remove the custom ad blocker rule(s) and the page will load as expected.