"All I need is the power to be able to protect my comrades. So long as I can have the strength to do that, I don't care if I'm weaker than everyone in the world."

—
Erza Scarlet
to
Azuma
in "
Tenrou Tree
"
Erza Scarlet (エルザ・スカーレット Eruza Sukāretto) is an S-Class Mage of Fairy Tail who is famous for her usage of Requip Magic. She is also a member of Team Natsu, as well as one of the main female protagonists of the series.
Appearance
Edit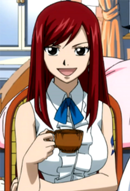 Erza is a young woman who has long, scarlet hair and brown eyes. She also has an artificial right eye made by Porlyusica, which replaced the one she lost as a child. She has a slender figure that Lucy describes as amazing and, like most females in the series, she has large breasts. Her most common attire consists of a custom-made armor by Heart Kreuz smiths, a blue skirt, and black boots. Her Fairy Tail stamp is blue and located on the middle of her left upper arm. Erza's specialty in Requip Magic, allows her to requip not only armor, but different outfits as well, allowing her to change her attire at any given time.